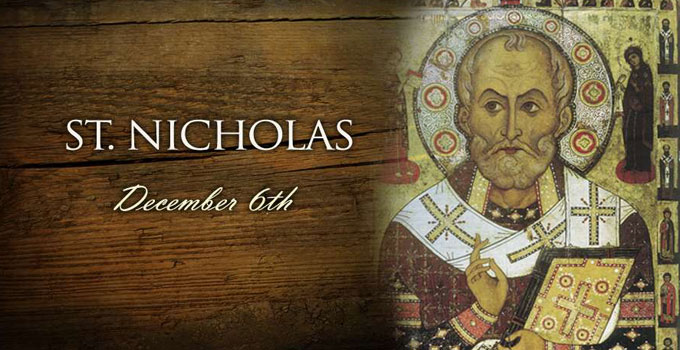 Commonly, this time of year the question is asked (especially by parents), 'What do we do with the whole Santa thing?' Understandably so. We're surrounded by a common Christmastime culture that involves imagining flying reindeer, elves in workshops, dancing snowmen and a jolly fat man careening down your chimney to leave presents for little boys and girls.
I love so many of the songs that permeate this season. For many of us, this season is pregnant with memories of family gatherings, of tree decorating, cookie decorating and of watching Sparky Griswold hilariously ruining Todd and Margo's Christmas. The point is: not all of it is bad – not by a long shot.
I simply want to encourage you by offering a way to remember who the real St. Nicholas was, Nicholas of Myra (in Turkey), the 4th Century defender of the faith and selfless giver. He was one of the bishops present at the very first world-wide gathering of pastors, called the Ecumenical Council of Nicea, in 325 A.D.
They gathered to defend the faith because a man named Arius was teaching that Jesus was not fully God. Bishop Nicholas was one of the men who helped to protect the faith from such heresy. Interestingly, it is said that he became so angry with Arius that he struck him across the face and was sentenced temporarily to a holding cell for it. I guess he was passionate about protecting doctrine!?
But to connect him with our "Santa," his parents died when he was relatively young and left him with significant wealth. He gave much of his wealth away, particularly to the destitute and needy. In one such case, he provided three bags of gold coins secretly at night to three young women who were going to be sold off to some form of slavery because of their father's inability to marry them off by proffering an appropriate bride price for their suitors. Many other stories are told about his incredible benevolence. This is the real Santa, echoes of his memory ring true today.
Every year, December 6 is the day of his remembrance in the church calendar. In ages past, on this day, a fun custom was observed by poor children leaving their shoes outside their door, filled with hay for his horse to eat, and in return, it was said that he would leave them with much needed healthy food. Gifts of excess were not originally attributed to celebrating St. Nicholas because he was known for providing needs for the vulnerable and needy, not trinkets for the wealthy.
A great way to celebrate him today is by teaching our children to give something they love and want to another person who has needs. By doing this, we are reminded it is better to give than to receive. This year, we're giving our daughter a toy and then asking her to give that toy away to someone who doesn't have very many toys. Little things like this can go a long way to fight against greed in the human heart.
Every family has to decide what they're going to do with traditions involving Santa, and as long as our decisions are well-reasoned and not detrimental to the faith, these traditions can be wonderful. I hope this post encourages you to remember the real St. Nicholas, who feared the Lord and obeyed Christ's call to give. For him, it was not a performance, it was out of love and obedience.
A common Santa lyric we hear today over the radio says this: "You better watch out, you better not cry, you better not pout, I'm telling you why, Santa Claus is coming to town…you better be good for goodness' sake…and hang your stockings and say your prayers 'cause Santa Claus comes tonight."
The real St. Nicholas knew that God gives great gifts even to bad people. God's gift of His Son, Jesus Christ, is the greatest evidence of this, who gave Himself as a ransom for many, and "who died for us even when we were His enemies." I hope while we enjoy all the fun Christmas culture surrounding us this season, that your gift giving reminds you of the true gift Giver, who loves us completely, meets the needs of the destitute and seeks the lost sheep. St. Nicholas' life still rings out today!