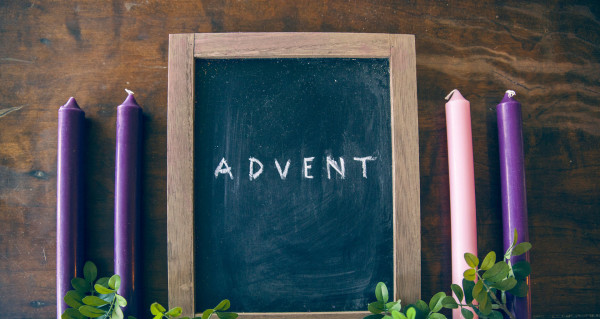 This is the week of Hope, when we remember the promised return of Christ. The candle we light for this first week of Advent is the first purple candle. Traditionally, the youngest child in the family gets to light this candle. When you gather at night to read and pray, start by lighting the candle to demonstrate how the light of God's love and power scatters the darkness. 
Sunday, Dec 3: Isaiah 2:1-5
Lesson: Our God has promised to bring us to live with Him in His heavenly home. In that place, He will put an end to all violence and He will end all wars. People from all nations will live there together in perfect peace. In this world, the hearts of many are darkened, and they hurt others because of it. But the light of God's love removes the darkness from our hearts and His Word shows us how to love Him and one another.
Question: What do you think it will be like to live on God's beautiful mountain home with Him?
Prayer: Heavenly Father, thank You for the hope we have in Your power and love. Thank you for protecting the vulnerable from the violent. Just as the candle burns bright in the darkness, Your promises light our path. Thank You that You will return to save us and put an end to all injustice. Help our hearts to find rest not in the things we have, but in Your presence.
Monday, Dec 4: Isaiah 26:1-8
Tuesday, Dec 5: Matthew 7:24-27
Wednesday, Dec 6: Isaiah 25:6-9
Lesson: The Lord is like a fortress for the weak, the poor and the hungry. He promises to satisfy the hungry with the greatest feast imaginable. Just imagine how great that will be!? The reason we get to live with Him forever is because Jesus died to save us. And when He did, He disarmed death and defeated it. The love of God wipes away our tears and gives joy to the sorrowful. We will wait for Him and trust Him even when life makes us sad.
Question: What food do you hope is at God's feast?
Prayer: Heavenly Father, we rejoice in Your love for us, and we hope in Your provision and promises. Thank You for giving food to the hungry and protection to the defenseless. We're waiting on You to come back and make everything right.
Thursday, Dec 7: Isaiah 29:17-24
Friday, Dec 8: Luke 17:20-24
Saturday, Dec 9: Revelation 22:1-5
*** Devotional material has been provided for Sunday & Wednesday. Feel free to participate in the Advent candle lighting and nightly devotionals the rest of the days. Scriptures have been provided for you to do so.