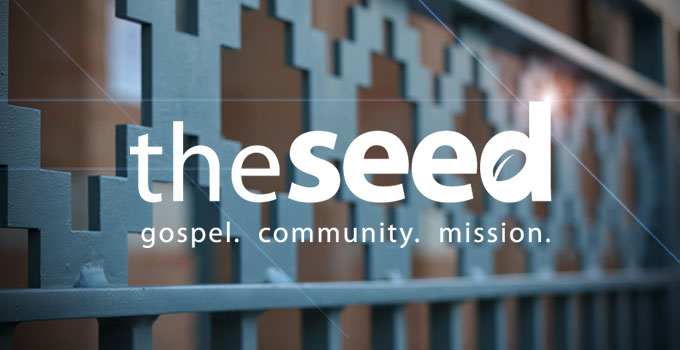 What is Gospel Fluency?
Let's start with the Gospel. A clear definition of the Gospel is simply this: Jesus came to us fully human and fully God, Jesus died for us on a cross, and Jesus rose from the dead to give us new life.
As for the word 'fluency,' here's how we can define it: The ability to express oneself articulately in a foreign language.
So Gospel Fluency is basically the ability to speak the language and heart of the Gospel – to ourselves and to others.
The Gospel in this world
The hope of the Gospel wasn't introduced into a theoretical world. Jesus came to this world. The story of this world can be summed up in four enormous categories: Creation. Fall. Redemption. New Creation.
Creation: The Gospel brings hope to people – specifically people created by God.
Fall: The Gospel speaks into sin, brokenness, and suffering – which is a daily reality in this world because of the Fall.
Redemption: The Gospel promises redemption – which means we are redeemed from something to Someone.
New Creation: And the Gospel is God's plan for making us new people who belong to a better world – as Paul writes, "If anyone is in Christ, they are a new creation" (2 Cor. 5:17).
Here's where I'm getting: The Gospel itself is simple enough for a young child to grasp. But we've been called to something more than just grasping the Gospel. We're called to believe it with reckless abandon; to put all our chips on the table; to put all our eggs in the basket. And – to talk about it and live it in such a way that others begin to put all their eggs in this basket too.
How do I become fluent in the Gospel?
That takes us to the practical matter at hand: How do we actually work toward becoming Gospel Fluent? Using language well is an exercise in science and art. There is a science to language. We call it grammar. Without it, we lack clarity. 'I liked to jumped beneath the beginning tends before after ending.' (See. I told you so.)
But there's also an art to using language. The best wordsmiths understand that language can be more than understood – it can be felt. When a Christian becomes Gospel fluent, it is because they have moved beyond the Gospel as science, so to speak. They feel it. The Gospel has penetrated their life deeply.
How? Because of time in God's Word.  That sounds too simple doesn't it? There is more to it, but closely attend to the following words: A Christian who isn't regularly immersed in God's Word will never become Gospel Fluent. Never.
So this session will involve Scripture reading. A healthy dose of it.  But nothing beyond your capability.
Our approach will be a little unique, but (I think) very effective: We will learn the full narrative flow of the Old Testament. Trivia question: How much of the New Testament is comprised of direct quotes and direct allusions from the Old Testament?
One third. That's a lot! But it's not surprising. Jesus preached from the Old Testament. Paul, and Peter, and John, and Jude, and James, and the author of Hebrews wrote the inspired text of the New Testament based on their deep understanding of the Old Testament.
Helpful Analogy: The New Testament is to the Old Testament as the pedals of a rose are to a rose stem: The beauty of New Testament promises unfold only through the nourishment of the Old.
The Logistics for the Gospel Fluency session
Where: Vintage Faith Church on the south side of 13th Street a little west of McLean.
Size Limit: None.
When: The session will consist of seven Thursday evenings, but we are scheduling nine because (as the saying goes) life happens. The nine Thursdays are: Sept. 28, Oct. 5, 12, 19, Nov. 2, 9, 16, Dec. 7, 14.
What Time: 6:30pm – 8:30pm. From 8:30pm – 9:30pm there will be an open (optional) Q&A to ask questions.
Can guests/friends come: Yes. This is for your growth – but we're always on mission as believers.
Childcare: Yes. You have to pay for it: $4/child each session. (I need help here. Can you help me? Would you like to serve this way, or do you know some responsible teenage gals looking to make a few bucks?)
How to sign up: Email Pastor Sean at: sean.mccoskey@gmail.com. Include your name, email address, and the number of children you plan on bringing (if any). If you sign up on Sunday morning on a paper sheet, Sean already has you enrolled.
Gospel Communities
If you want to be in a Gospel Community, and in Gospel Fluency at the same time, you are free to do that. You can also join an existing group after this session ends, or join a new group – it may be that a group or two will perhaps need to form once the Gospel Fluency session ends. We'll just have to see how that goes.
Scripture Reading
If you've signed up, or plan to sign up, you can already begin preparing (and I strongly recommend that you do). If you don't read the recommended Scriptures, you will still get something from our time together. But you will fail to capture a lot too.
Set a goal to read them all. Why not? It's the Word of God. Wonderful use of your time. If you can't make that happen, then read as many as you can from each book. Or, if you are pretty familiar with a particular book already, then focus your time on the ones you don't know. Regardless of what you do – don't shortchange yourself. Not intending to guilt-trip you; intending to inspire you. Isn't this an accomplishment worth chasing? (If you'd like a full list of the Scriptures to read, simply email theseedwichita@gmail.com)
In the first session (Oct. 5th) we will work through the Pentateuch: Genesis through Deuteronomy. And in the second session the following week, we will tackle the historical books.