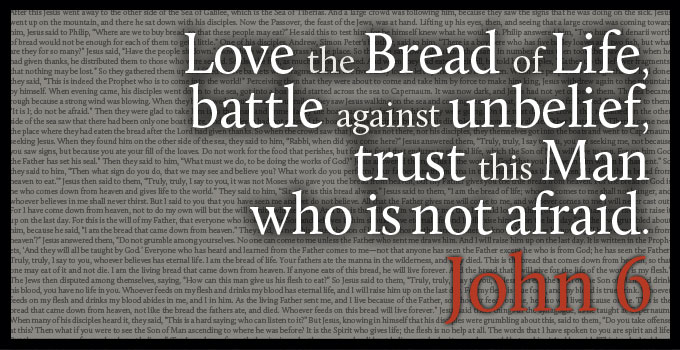 Scriptures Referenced: John 6:67-71; Acts 4:23-31.
1. On Sunday, Ryan preached, "Our confidence in Christ is not merely a matter of making sense of truth in our minds; it's actually a matter of training our hearts to operate on that truth, even when it doesn't feel true. That's how we grow in faith and obedience." Describe your current life rhythm. What does it practically look like for you to depend upon Christ's sufficiency for you in this season of life? 
2. The account of Acts 4 is a helpful example of what believing John 6 will accomplish in you. Peter and John, despite facing incredible obstacles and even torture, praised God and asked for more boldness. This is because they were more concerned about God's plans than their own. Are you more concerned about God's plans or your own? 
3. The fact that Jesus chose Judas as one of His disciples, as described at the end of John 6, showed that nothing could withhold Jesus from completing His mission. And it teaches us that when we trust in God's timing and wisdom, failure isn't possible. But when we trust in our own plans, over God's, failure is inevitable. Think about that for a moment. How does this encourage you?
4. Recounting the crazy acts of God through Israel's history fills us with courage to trust the purposes of God, especially when times are hard. What Old Testament accounts come to mind that display the might of God amidst towering obstacles?
5. In closing, Ryan reminded us that God doesn't choose to work in the absence of challenges and obstacles. Rather, He often selects very difficult challenges and then works in spite of them. Let that encourage you this week.